Highlights from the Sixth Annual Lift Every Voice Lecture Series 2016
Seventh Annual Lift Every Voice Lecture Series 2017
The Lift Every Voice Lecture Series is designed to raise critical issues that affect society and to offer solutions. During the series we will also highlight the contributions of African Americans, showcase talent and engage in constructive dialogue that will serve as a catalyst for positive action. Here is a look at this year's series:
February 17, 2017 @ 6:30 PM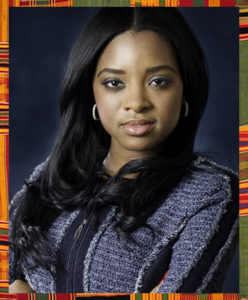 Tamika D. Mallory is a nationally recognized civil rights leader and anti-violence advocate. She is the NYC co-chair for the Gun Violence Awareness Month Initiative, a statewide program of education and awareness around gun violence intervention and prevention. Founder of Mallory Consulting, a strategic planning firm in New York City, Tamika is a regular contributor for Essence Magazine and NewsOne.com, and has been featured on national outlets such TV One, CNN, MSNBC and BET. Her tireless activism earned her public praise as "a leader of tomorrow" by Senior Advisor to President Barack Obama, Valerie B. Jarrett.
Topic: THE MILLENNIAL MOVEMENT: ENGAGEMENT OF A NEW GENERATION

February 21, 2017 @ 6:30 PM
Joe Madison, also known as "The Black Eagle" needs two wings to fly. And for Madison that translates into successfully balancing the passions of talk radio and political activism. It's a balancing act that has won him praise in the talk radio industry, and civil rights community.
When many of his peers are "all talk and no action," Madison has spent his entire adult life in the trenches, engaged in the very issues he raises with his radio audience. It's a sacrifice that has meant going to jail for civil disobedience countless times, taking part in hunger strikes in opposition to apartheid in South Africa, and genocide and modern-day slavery in Sudan.
In April 2008, Madison was awarded Talker magazine's coveted "Freedom of Speech Award." Previous recipients have included Howard Stern, Al Franken, Rush Limbaugh, Bill O' Reilly and Brian Lamb. A native of Dayton, Ohio, Madison has been named Talker Magazine's 100 Most Important Radio Talk Show Hosts nine times, an amazing feat for someone who started his career on Detroit's legendary WXYZ-AM in 1980.
For Madison, it was activism that prepped him for a career in radio. In 1974, several years after graduating from Washington University in St. Louis, Missouri, Madison was appointed Executive Director of the 10,000 member Detroit NAACP at 24. Madison not only became the youngest person appointed to this position, but displayed leadership well beyond his years. Four years later, he was rewarded with a promotion to director of the NAACP Political Action Department in 1978, by former president and CEO of the NAACP, Dr. Benjamin L. Hooks.
Madison has been relentless in his efforts to protect those who suffer at the hands of powerful interests. He led demonstrations and arrests in front of the Sudanese Embassy for 90 straight days to end the genocide in Darfur. His efforts led first to the House of Representatives and U.S Senate, and later the Bush administration declaring genocide was taking place in Darfur. Madison followed this up by leading a campaign to divest $93 billion in Sudan. To date, Illinois, South Carolina, Michigan, New Hampshire, New Jersey, Oregon, and California have divested from Sudan.
Being someone who is proud to say he launched his radio career in Detroit, Madison is equally proud to say his activism brought justice and recognition to the legendary Motown group The Four Tops. After 40 years in the music industry, The Four Tops had not received a star on Hollywood's Walk of Fame. It was another "What are you going to do about it" moment for Madison. So in a yearlong campaign, Madison and his listeners sent letters to the Hollywood Chamber of Commerce urging them to honor the group. After thousands of letters and calls, The Four Tops were awarded a star on the Walk of Fame in June 1996. Duke Fakir, a member of The Four Tops, said, "We will be forever be grateful to Joe." The Four Tops publicly honored him at the Wolf Trap Arena in Washington, D.C. with a replica of the Hollywood Walk of Fame Star as officially, "The Fifth Top".
Topic: THE REVOLUTION WILL BE TELEVISED: ACTIVISM IN THE 21ST CENTURY
February 24, 2017 @ 6:30 PM
Marino Cordoba, a well-known community advocate and national Afro-American leader from Colombia, was forcibly displaced from his home as a result of illegal paramilitary actions against the civilian populations in Chocó. Early in his life, Mr. Córdoba distinguished himself as a dedicated leader and representative of his community, peasants and small farmers of the many communities of African heritage that people the Pacific region of the country. Within the widespread violence of raids and massacres, he was specifically targeted and threatened as an important outspoken leader, as President of the Small Farmers Organization of the Lower Atrato Ocaba Region, and as leader and Special Advisor to the Council of Black Organizations.
Having pursued studies in Public Administration, focused on Social Management and Community Development, he had also played a prominent role in the Constitutional Assembly of 1991, successfully advocating for recognition of traditional identity and land rights for Colombian Afro-Americans. At the time of the intensified violence he was working as the Elected Representative of the African Colombian Communities on the Executive Council of the statewide Development Council of Chocó (CodeChocó) and as a member of the Peace Council and Mediator in Alternative Dispute Resolution in the municipality of Riosucio. As has been the case for 3 million Colombians in the recent history of the decades-long conflict, he was forced to flee for his life, together with his family and with those neighbors from the area of Riosucio who had not yet been killed.
Marino survived and continued his activities in Bogot, the capital, under continuous threats to his life during the last few years because of his increasingly prominent national and international leadership roles. During this time, Mr. Córdoba worked as Special Assistant in the Office of Congresswoman Zulia Mena. He founded and became the first President of the National Association of Displaced Afro-Colombians (AFRODES) and the Bogotá District Council of Black Organizations. He traveled extensively as the representative of the displaced communities, receiving many peace awards and invitations to speaking tours in various countries of Latin America, the United States, and South Africa. In 2001, he ran as a candidate to the City Council of Bogotá, representing the interests of the hundreds of thousands of displaced persons, of all colors, who have in recent years swelled the population of the marginal neighborhoods of the capital.
He was wounded in the leg two years ago, one of the many attempts against him. In November 2001 the Human Rights Commission of the Organization of American States requested that the Colombian Government provide the necessary conditions and preventative mechanisms to guarantee Mr. Cordoba's and his family's life and livelihood, though the request was really never heeded. He was finally forced to abandon the country in January 2002, fleeing from yet another planned assassination attempt, has received asylum in the United States, where he works and travels to denounce the deplorable situation for human and civil rights in his homeland, and in particular, to garner support for the cause of Afro-Colombian communities besieged by the violence of war.
Topic: THE VIOLATION OF CIVIL RIGHTS: FIGHTING A HOSTILE GOVERNMENT

February 28, 2017 @ 6:30 PM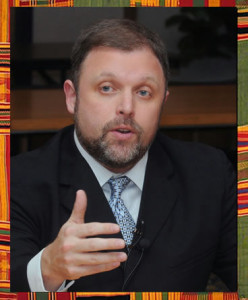 Tim Wise,
whom scholar and philosopher Cornel West calls, "A vanilla brother in the tradition of (abolitionist) John Brown," is among the nation's most prominent antiracist essayists and educators. He has spent the past 20 years speaking to audiences in all 50 states, on over 1000 college and high school campuses, at hundreds of professional and academic conferences, and to community groups across the nation. He has also lectured internationally, in Canada and Bermuda, and has trained corporate, government, law enforcement and medical industry professionals on methods for dismantling racism in their institutions.
Wise's antiracism work traces back to his days as a college activist in the 1980s, fighting for divestment from (and economic sanctions against) apartheid South Africa. After graduation, he threw himself into social justice efforts full-time, as a Youth Coordinator and Associate Director of the Louisiana Coalition Against Racism and Nazism: the largest of the many groups organized in the early 1990s to defeat the political candidacies of white supremacist and former Ku Klux Klan leader David Duke. From there, he became a community organizer in New Orleans' public housing, and a policy analyst for a children's advocacy group focused on combatting poverty and economic inequity. He has served as an adjunct professor at the Smith College School of Social Work, in Northampton, MA., and from 1999-2003 was an advisor to the Fisk University Race Relations Institute in Nashville, TN.
Wise is the author of six books, including his highly-acclaimed memoir, White Like Me: Reflections on Race from a Privileged Son; Dear White America: Letter to a New Minority, Colorblind: The Rise of Post-Racial Politics and the Retreat from Racial Equity; and Under the Affluence: Shaming the Poor, Praising the Rich and Sacrificing the Future of America. He has contributed chapters or essays to over 25 additional books and his writings are taught in colleges and universities across the nation. His essays have appeared on Alternet, Salon, Huffington Post, Counterpunch, The Root, Black Commentator, BK Nation and Z Magazine among others.
Wise has been featured in several documentaries, including "White Like Me: Race, Racism and White Privilege in America" (from the Media Education Foundation), which has been called "A phenomenal educational tool in the struggle against racism," and "One of the best films made on the unfinished quest for racial justice," by Eduardo Bonilla-Silva of Duke University, and Robert Jensen of the University of Texas, respectively. He also appeared alongside legendary scholar and activist, Angela Davis, in the 2011 documentary, "Vocabulary of Change." In this public dialogue between the two activists, Davis and Wise discussed the connections between issues of race, class, gender, sexuality and militarism, as well as inter-generational movement building and the prospects for social change.
Wise appears regularly on CNN and MSNBC to discuss race issues and was featured in a 2007 segment on 20/20. He graduated from Tulane University in 1990 and received antiracism training from the People's Institute for Survival and Beyond, in New Orleans. He and his wife Kristy are the proud parents of two daughters.
Topic: WHITE BACKLASH: THE RISE OF TRUMP IN POST OBAMA AMERICA

Series Host
Bishop Talbert W. Swan, II is the pastor of the Spring of Hope Church Of God In Christ, Assistant General Secretary for the International Church Of God In Christ, National Chaplain of Iota Phi Theta Fraternity, Inc., Executive Director of COGIC Family Services, an author, radio talk show host, newspaper columnist, and long-time community activist. He is the president of the Greater Springfield NAACP, Chairman of the Board of Dunbar Family & Community Center and sits on various other boards and committees. Bishop Swan has been at the forefront of civil rights issues throughout the region and the nation for over two decades. He holds a Bachelor of Science in Computer Science from Western New England College, an Associate of Science and Bachelor of Science in Religious Studies from Charter Oak State College, a Master of Arts in Theology from Hartford Seminary, a Master of Divinity from Gordon Conwell Theological Seminary and Graduate Certificates from Hartford Seminary and Harvard Divinity School. Bishop Swan's life's work has been committed to the mission of ensuring the political, educational, social, and economic equality of rights of all persons and eliminating race-based discrimination.